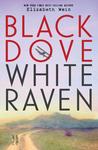 Black Dove, White Raven by Elizabeth Wein
My rating: 3 of 5 stars
As I read into this, and slid myself into yet another one of Wein's richly textured and imagined landscapes, I was thinking about how I felt about her work. One of the words that sung out to me then and still does now, is the idea of trust. Following the great heights of Code Name Verity and Rose Under Fire, I trust Wein so much. I would go with her wherever she wanted to go.
And so to two women, stunt pilots and mothers, and their children Em and Teo. Black Dove, White Raven. Teo's mother is killed during an accident and so Em's mother, the wild and vivid Rhoda, decides to take him to Ethiopia. A country where he won't be discriminated against because of the colour of his skin. A country where Em won't be discriminated against because of her gender. A country where this family can live in peace.
But then war, and the end of all good things.
Black Dove, White Raven is a difficult book to rate and talk about for me primarily because of how it swings on that last rapid and intense third of its story. Before then, it is slow. It is rich and coloured and beautifully written but oh, in the same breath, it is so slow and heavy and dense. Structurally, it's told in a patchwork of stories and voices, and there's an odd sense of disconnect between all of them which impacted heavily upon my reading. I was not invested.
But then, in that last third, then I was. So much. It's here that Wein slides into doing what she does best and bringing all these strands that have been laid beforehand into play and she does so with great ease and great skill. Her canvas, I think, is upheaval. It is emotions and tension and love and loss and hope. And I would have welcomed more space being trimmed for that movement, for that great crashing of chords at the end of the piece.