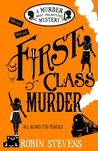 First Class Murder by Robin Stevens
My rating: 5 of 5 stars
It's strange, sometimes, how books can make you long to read them and then freeze a little when you have them finally in your hands. And this was one: I love the work of Robin Stevens. I have adored Murder Most Unladylike and Arsenic For Tea. The third in the series, First Class Murder, was something that I was viciously hungry to read – and yet, reluctant to do so. I think that's something that sometimes happens when books are this good, this continual level of good and wonderful writing and plots which hit all of your sweet spots and just make everything right with the world. You get scared that it can't last. You get nervous.
There aren't many contemporary writers I feel like this about. Susie Day is one as is Sita Brahmachari, and I suspect Aoife Walsh may become another.
Robin Stevens is very much up there on this list; a collective of some of the smartest and most exciting author voices working in contemporary children's literature today. And because of all of that, I was nervous of First Class Murder. I was nervous that it just might not be that good.
So. Let me tell you this before we go on. First Class Murder is just -well, it's perfect.
I love what Stevens does with her characters. I love that the further on she gets in the series, the more confident her writing feels and the drama becomes more dramatic and the humour becomes more stylish and heartfelt (The 'Hermes' moment is one such perfect example). I love that this series is turning into a such a powerhouse that can have jokes about the amount of times somebody vomits, with discussion of some incredibly dark and relevant issues. I love how the female characters in this book are so intensely multi-faceted and rich and capable; and I love how the adult characters, in particular Hazel's father, are drawn with such sympathy and truth.
I would give these books to the world if I could, because they're just a genuine joy all the way from the start through to the end, so instead I shall end with a small anecdote about a girl I met in the library once. I asked her what sort of books she liked. She told me that she liked Enid Blyton and Agatha Christie. "Well," I said, "Do I have the perfect recommendation for you," and then we beamed at each other as fellow bookish folk often do.
This is the perfect book for that girl. It's also the perfect book for anyone who's wanting something that has strong and brave characters, a tightly choreographed and controlled dance of a plot, murder, trains, shenanigans and buns. Basically, it's the sort of book that I am and will continue to be slightly evangelical over.
(Also, these books are begging to be bought together as a series. Just look at those covers! My book shelves long for the three of them to be back to back!)