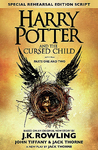 Harry Potter and the Cursed Child by J.K. Rowling
My rating: 3 of 5 stars
It's complex to rate Harry Potter and the Cursed Child because it's a complex piece this. It is rather wonderful, rather strange, and rather odd all at once. I suspect it's perhaps a little bit of a paradigm shift in the nature of children's publishing – as, again, so much of the Harry Potter universe is now. It is a play. A play, published and packaged with such beauty (it is quite gorgeously designed) and it's being sold at supermarket tills. I've never seen that, and I suspect I may never see that again. This is landmark stuff and it is stuff that, I think, is rather thrilling. There are things happening right now in children's publishing that are unique and important.
So, here we are. Harry Potter and the Cursed Child. As the blurb describes it, this is 'The Eighth Story. Nineteen Years Later.'. Everybody and everything is older. Our core triumvirate have grown and got married and had children and it is upon those children that much of this story hangs. But again, it's a story about never escaping story, I think, and the fact that so much of it hinges upon an understanding of how where we have been colours where we are now reflects that. That's one thing I do like; though the play is written by Jack Thorne and based on JK Rowling's story, there's a lot of truth to it. This feels real and it feels rooted. And it feels older. We've grown with Harry and Harry has grown with us. It's a complex thing with a series; do you hold it, firm, fixed, or do you let it breathe and let it evolve (or, perhaps, devolve?).
There's some delightful moments in this, but there's also some complicated ones. Complex. I keep returning to that. I am reviewing a new Harry Potter text. How strange that is. How strange that really rather is.
Thorne's dialogue is delightful. He writes for the ear, for the words to be spoken, and that's the great strength of this piece. There are moments in it where the words are heard rather than read; the quickness of language, the bond of words and action formed with the shift of a sentence or the look between two characters. There are also moments which echo the world before; moments which translate a bit hesitantly onto the page and retold in words and stage directions but will, I suspect, sing on stage. So then is this half a text? In a way, yes, but then – isn't everything? Isn't everything we read half of what we make it when we read? This, perhaps, is more overt than most in that it needs you. And it needs you to embrace its conceits; to imagine that stage and the setting, and to gasp at the twists and be moved – for there are moments in this that both caught and moved me deeply.
So where do we end this? How do we end such a tentative and soft-edged review of such a fascinatingly complex piece? Perhaps we end with Scorpius, one of the new characters and one who is a joy. Scorpius is a delight and a wonder and he is maybe one of the best characters in the entire series for me. Maybe we end with Scorpius and on his story. Maybe that's where we end, with Scorpius and Albus, and the knowledge that Harry lives, that he survives and that survival – life – is complicated and complex and it is worth fighting for. Because it's what comes after the big moments, that's what matters. That's what makes you who you are.